Safeguarding
At the bottom of the page are links to safeguarding agencies.
Our DSLs (Designated Safeguarding Leads) in school are:
Mr Attwood (headteacher); Mrs du Toit (Dep Head teacher);
Mr Neadle (Pastoral Manger); Miss Harvey (Learning Mentor).
Should you have any concerns about the safety or well-being of a child,
please ask to make an appointment to one of the above.
The Birmingham Safeguarding Children Board (BSCB), a partnership of agencies who work together to prevent child abuse and neglect, have launched a campaign & video to raise awareness that:
'keeping children safe is everybody's business'. (CLICK here to go to their website)
The campaign focuses on raising community awareness of what to do if you are worried about a child and most importantly to encourage members of the public to call Birmingham City Council's Children's Advice & Support Service to report their concerns, so action can be taken to safeguard and protect the child.
There were over 58,000 children identified as needing protection from abuse in the UK in 2016. Most cases go unreported, leaving children to suffer in silence. The BSCB wants to make sure that organisations are in a position to support families and to do this well, we need the public to be able to tell us early, when they spot signs of distress or concern. This is about empowering communities in Birmingham to recognise the signs and know what they can do to help stop child abuse.
Parents & Carers always find looking after children online difficult -
for hints and advice, click HERE
MOMO is a new craze found on youtube & Whatsapp. It is a very dangerous game that encourages self-harm and even suicide. PLEASE make sure you speak to your children and be aware of their online activities. Further advice from the National Online Safety Group can be downloaded HERE or from their website - click here
Click HERE to see our Racism assembly, as part of Anti-Bullying Week, delivered to the children 12.11.18
New craze: ROASTING - please click below to see our assembly powerpoint from 4.6.18 - please be aware the school will not tolerate any kind of 'roasting' or
mean/ insulting behaviour from children.
Download our Safeguarding Policy:
Bellfield Junior School - Safeguarding Policy
---------------------------
New app warning: PERISCOPE
Warnings about a new app from Twitter called Periscope - please click below to see the BBC news report warning - PLEASE do not allow your children to have this app!
------------------------------------
Watch our Powerpoint from the Parents Internet Safety Workshops (click below):
--------------------------------------
Tips for Parents: talking about
Click here to go to the NSPCC website
* * * * * * * * * *
Have you seen the social experiment / stranger danger youtube videos? Click here to watch them and then discuss them with your children, especially younger children!
- - - - - - - - -
We sent out a Child Safety letter on 28.11.16, warning about a new app and
children being followed - please read it HERE
SRE - is now HRE (Healthy Relationships Education)
For an overview of our HRE scheme of work, please click here:
Safeguarding is important! Please take the time to read this information.
Government advice for parents & schools on Safeguarding our children
The NSPCC website has lots of advice for parents...
...including Online Safety - do you really know what they are looking at?
or call 08088005002
CYBERBULLYING: if you find this is happening to your child, we strongly recommend that you contact POLICE and report it.
Please browse below to find tips and information to help you keep your children safe whilst using the internet.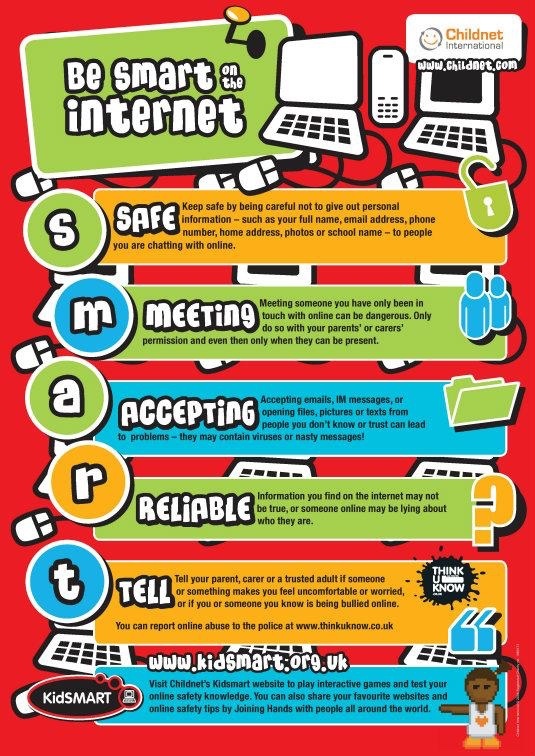 | | | |
| --- | --- | --- |
| | BSCB/MASH team: to ask for advice or make safeguarding referals | |